English
Deutsch
Español

Francais
Italiano

Nederlands

Licensing

Read the License Agreement

When you start Arithmogriph for the first time, the program will attempt to get a 30-day test license via the internet. A one-way encrypted identifier will be transmitted to request the license. You can only request one test license per computer.




Make sure you are connected to the Internet and then click the Get test license button. If your PC is not connected to the Internet you may request your 30-day license from the Arithmogriph homepage using any Internet-enabled computer. See the paragraph below for more information about this option. If you don't have a full license, the following dialog box will appear every time you start the program: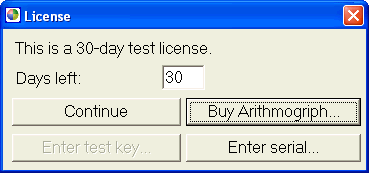 Click the Continue button to play Arithmogriph. To buy a full license of Arithmogriph, click the Buy Arithmogriph button. Your default browser should open automatically and load the appropriate page.

If the computer on which Arithmogriph is installed is not connected to the internet, you may still obtain a test license key. You or another person must visit the Arithmogriph homepage from an Internet-enabled computer to request the test license key. Click the Enter test key button in Arithmogriph. A dialog box will appear. You will see your encrypted identifier, you need for requesting your test license key. This is also where you will enter your test license key after you have received it.
Attention: The 30 day test license period begins on the date the key is requested, not on the date it is entered into Arithmogriph!

If you purchase a full license, click the Enter serial button.




Enter your name, customer number, and serial number. Click the OK button.